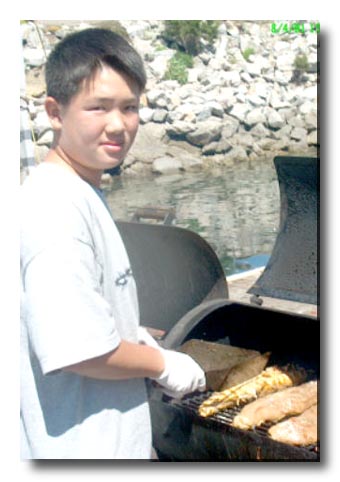 HOW DO I COOK MY FISH?
Salmon and albacore can be grilled, baked, broiled, poached, microwaved, sautéed, smoked, canned, or eaten raw in sushi and as sashimi. Either can be prepared with any of your favorite seasonings or marinades: simple or exotic, homemade or store-bought. Try substituting either in your favorite chicken, beef, or pork recipes, but don't think of them only as entrees. DO experiment! Leftover cooked salmon or albacore is also excellent. Cooked fish may even be frozen in meal-sized quantities, defrosted as needed, and used like canned fish. You are limited only by your imagination!

DO NOT OVERCOOK!
The biggest mistake people make in cooking any fresh fish is to overcook it! When fish is overcooked, it loses moisture and flavor. Check your fish as it cooks and remove it from the heat source when the very center is still slightly rare. Mark likes to say, "If you think it isn't quite done, it probably is!" The fish will finish cooking in the few minutes it takes to get it to the table. Cooking methods and other factors will affect cooking times, so DO NOT rely solely on a timer.

GRILLING POINTERS
Grilling is a favorite method for preparing both salmon and albacore. For best results, barbecue grills and baskets need to be well seasoned and generously coated with nonstick spray. Keep your fish moist during grilling, by basting during cooking, or marinating in advance. Barbecues can vary greatly in temperature, which will affect cooking times, as will the size of the portions you are cooking.

CALLING ALL COOKS!
The Bonnie Marietta would like to expand the camaraderie shown while waiting in the fish line to this web page by providing a venue for our fish-loving customers to share their favorite fish-related recipes, with a special focus on salmon and albacore, of course. If you have a recipe (or two or three or . . . ) you would like to share, simply click on the link below and complete a form for each recipe to be shared. Your recipe will be posted here with your name, city and state. We think you will find the form very user friendly. In addition to typing directly onto the form, you may cut and paste into the form. To look for a recipe, simply browse the Recipe Index or search the index on a key word or phrase.
For our customers who do not have computer access, a printed recipe submission form is available during operating hours at the Dockside or the Bonnie Marietta. We do not plan to provide a printed cookbook at this time, but the future is big and bright, with endless possibilities.
Recipe Index
This is a link to the index of recipes.
Here are direct links to two of the most asked for recipes.