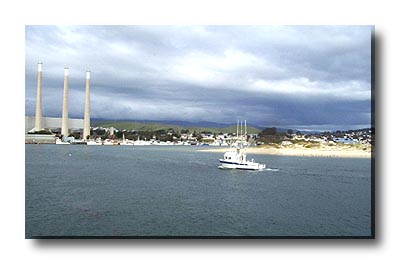 WHERE TO FIND US
When not at sea, the Bonnie Marietta is docked on the waterfront in Morro Bay, California. Look for it on the Embarcadero just north of Beach Street. From May through September, Captain Mark fishes during the week, weather permitting. Dockside sales generally begin on Saturday at 8 A.M., but occasionally are conducted on other days. (Our weekly emails notify customers of sale days and times.) (Our weekly emails notify customers of sale days.) Come by to buy a fish, or just to watch us sell our catch, directly from the boat. You'll find the Tognazzini crew friendly and helpful. It's a one-of-a-kind family operation!

HOW TO SIGN UP FOR OUR
E-MAIL UPDATES
Sign up for our free "Fish List" email updates, if you would like to know when fish will be available from the Bonnie Marietta. Emails are sent weekly during salmon and albacore seasons. Simply email us at MBTog@BonnieMarietta.com and ask to be put on the "Fish List" or use our Fish List Web Form. We don't give your address to anyone and other recipients of the weekly update cannot view your address. (If you don't hear from us within a week, email again, to insure that your message was received.) Tell your friends!

HOW TO CONTACT US
The Bonnie Marietta
Mark and Bonnie Tognazzini
305 Avalon Street, Morro Bay, CA 93442
(805) 772-1560 Home
(805) 441-1451 Boat
(805) 772-8100 Dockside Restaurant
www.BonnieMarietta.com
MBTog@BonnieMarietta.com
(6/12/2005 Note the new email address)